I just finished watching Music Japan, the talk part where KAT-TUN played tennis table with Perfume. I know it has been old, but I couldn't download this part because of my "lovely" internet provider behaved "very normal" at weekend. The internet connection has been disconnected since morning until late at night. It still behaved "normally" in Monday which apparently Monday was also still holiday here. It was a long weekend starting from Saturday til Tuesday .

Yesterday, I luckily found this part on YouTube. I'm so grateful there's someone who has uploaded this show because despite my bad internet connection problem, I have very limited space in my HDD.

When I watched KokixAa-chan vs KamexJunno, I laughed so hard while watching this.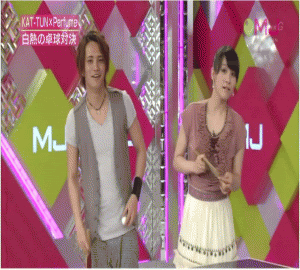 Those two were trying to divert KamexJunno attention by playing "What is that". Somehow it reminds me the same trick Maru used when MaruxUeda played badminton with Leah Dizon.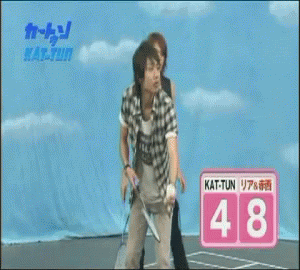 ROFL ~ They used the same trick.